culture Solutions closes an eventful year with a gathering in Brussels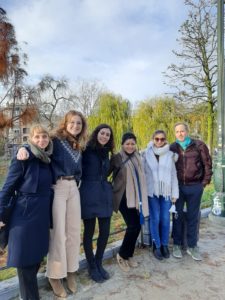 On 26 November culture Solutions held its first physical event, in the heart of the EU – Brussels. We were joined by like-minded individuals working or interested in the field of International Cultural Relations. Our colleagues had the opportunity to present culture Solutions recent work, answer questions from potential partners and member, and learn from their experience with culture.
Our co-founder and chair Damien Helly gave a lecture on Practices of International Cultural Relations at the CIRCEA Autumn School, celebrated in Siena, Italy, between 16 and 18 October under the title "Culture in International Relations: Constructing European external action". Read more about the programme and see the presentation.
In a collaboration with IED, in September Damien Helly discusses how cross border cooperation in the field of culture and cultural heritage can be used as a tool to promote peace and mutual understanding. Listen to the podcast now.
On 9 and 10 June, OEACP and the European Union with the technical support of culture Solutions and Nookom are organising a virtual webinar "Towards a sustainable cultural and creative industry in African, Caribbean and Pacific countries". Find out more here.
On 26-27 May, UNESCO and the European Union organised a virtual conference "Restoring Livelihoods Through Culture in Yemen" facilitated by culture Solutions. Read the programme of the event, as well as the lessons learnt by our moderators.
DG INTPA's Culture Seminars have highlighted the need for a Community of Practice, especially in the digital realm. Since 2018, culture Solutions teams have delivered the annual three-day training – Culture Seminars – for EU Delegation cultural focal points from across the world.
On 21 April, Damien Helly spoke about US-EU cultural relations at the webinar "Success and Challenges for the EU External Cultural Relations" part of the series "EU Cultural Policy: Beyond Masters and Museums" by the Center for European Studies at UF Jean Monnet Center of Excellence. Speakers considered the protection and enhancement of cultural heritage in conflict and crisis and its integration in peace-building initiatives, as well as the possible opportunities in the EU-US relations offered by the new US presidency and the multi-year EU budget programming. Recording is available here and presentation in the audio-visual materials.
In March, co-founder Felipe Basabe Llorens held a seminar on "EU Cultural Diplomacy and International Cultural Relations. Legal and Institutional Evolution" at the Universidad Carlos III de Madrid.
Interested in inviting culture Solutions members as experts or moderators at your event? Contact us now.