Restoring livelihoods through culture in Yemen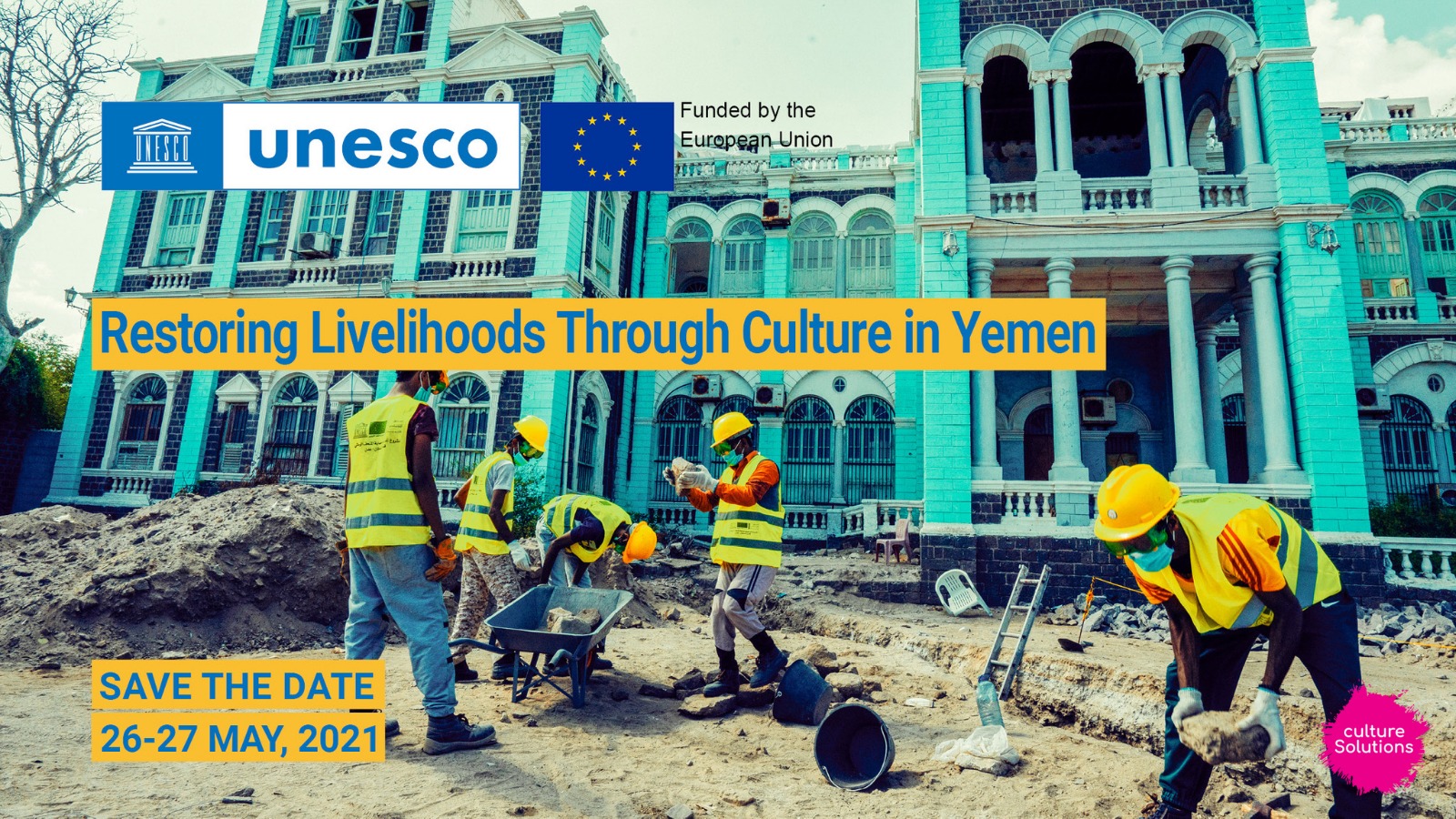 On May 26-27, UNESCO and the European Union organised a virtual conference "Restoring Livelihoods Through Culture in Yemen" facilitated by culture Solutions.
The event was set up within the framework of the project "Cash for Work: Promoting Livelihood Opportunities for Urban Youth in Yemen" launched in 2018. The project aims at creating jobs in heritage restoration and preservation for youth in Yemen, while promoting social cohesion and resilience through cultural programming. 
The two-day-long international conference gathered experts from UNESCO and EU institutions together with prominent experts from Yemen who presented concrete progress made, pending challenges, adjust work streams building on resources, knowledge and tools available. The event also offered an insight into Yemen's culture through artistic works of talented young Yemenis and 12 on-demand documentary films.
The initiative comes as a response to the economic hardship, extensive population displacement, and heavy damages to infrastructure and heritage due to the ongoing conflict in the country and recently the COVID-19 pandemic.
Damien Helly, culture Solutions co-founder, was part of the first panel on Day 1 dedicated to Community-centered Urban Rehabilitation in Conflict Contexts. culture Solutions Research Associate Bart Hesseling and Training and Know-How Sharing Coordinator Nicole McNeilly  moderated some of the thematic panel sessions.
The  programme was divided into five insightful thematic sessions and youth-led artistic performances: 
Session 1: Community-centred Urban Rehabilitation in Conflict Context: Lessons learnt, challenges and way forward
Session 2: Preservation Standards and Livelihood Needs in Yemen: Bridging humanitarian development nexus through cultural heritage?
Session 3: International Standards: Translating international conventions into operational plans
Session 4: Turning Young Yemenis' Ideas, Talents and Creativity into Livelihoods: Untapped potential of creative industries
Session 5: Building Engagement and Community Commitment to Cultural Heritage Protection in Yemen
Short Films Screening: 12 short films focusing on culture in Yemen produced in collaboration with UNESCO, EU, YWT, New York Film Academy and SMEPS – available on-demand for a week
Full description and lessons learnt in the links below.